I'm thinking of getting a button that says, "Closed for renovations".
I can't take care of anyone else right now but old patterns die-hard.
You know when you wake up in the summer and you can smell that beautiful clean smell of ozone and you guess that you must have slept through a thunderstorm. When you get up and see that you were right you kinda feel like a wise person in tune with nature. Madeleine woke up with that kind of feeling yesterday but it was not as pleasant as a thunderstorm. It was a feelings storm.
(I know, gross)
Madeleine woke up yesterday, gave a sniff and thought, "uh oh, Mom's mad". I was crashing around the house like a baby who didn't get her way. I was mad and mad to be mad. (this is the song that never ends….sing along, now!)
For the most part I have been able to stay focused on healing and getting better but doubt crept in when my guard was down and got a foothold.
When the storm blew itself out Madeleine and I made a plan to take this storm show on the road.
We packed up old plates, trinkets, vases and my trusty slingshot.
And because we are not hooligans we also packed a box, broom and safety glasses. We took a drive, found a beautiful spot then spent a couple of hours breaking things – just the right medicine. Madeleine has a great shot, we could eat off her aim.
I've made some adjustments to my expectations (lowered them, of course) and tried to create more space for patience. Chemo number 5 is next week, so I'll need to make sure my foundations are well set.
As always, I am grateful for your love and prayers. I love you too.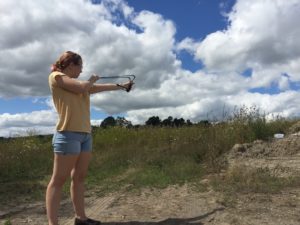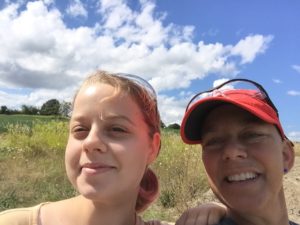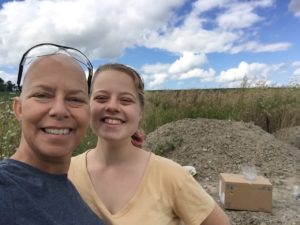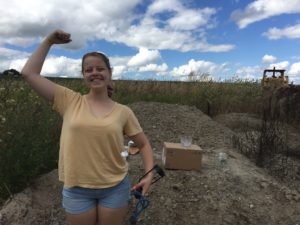 Here is the full version of the Emily Dickinson poem Mrs. Cober referenced – thank you for the reminder.
'HOPE' IS THE THING WITH FEATHERS
Emily Dickinson
'Hope' is the thing with feathers—
That perches in the soul—
And sings the tune without the words—
And never stops—at all—
And sweetest—in the Gale is heard—
And sore must be the storm—
That could abash the little Bird
That kept so many warm—
I've heard it in the chillest land
And on the strangest Sea—
Yet, never, in Extremity,
It asked a crumb—of Me.